13 Jun 2021
SWINTON LIONS 30 - 36 NEWCASTLE THUNDER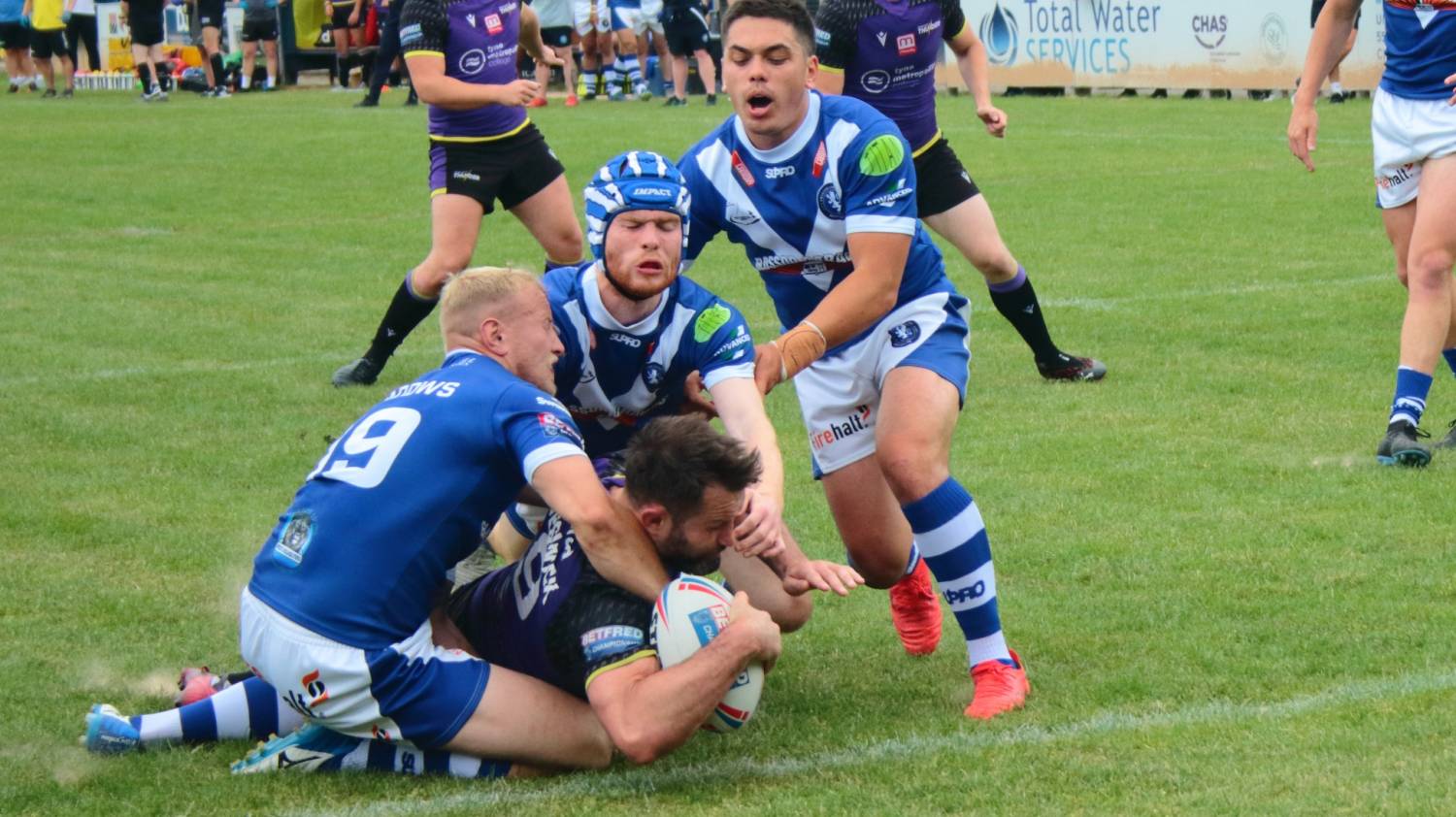 Newcastle Thunder dug deep on a sweltering Sunday afternoon in Manchester as they secured a 30-36 Betfred Championship win over Swinton Lions.
Eamon O' Carroll's side showed both attacking prowess and resolute goal-line defence in equal measure as they inflicted a ninth straight loss on the hosts.
Thunder started brightly and spent much of the opening stages deep in the Swinton half before making the opening breakthrough with a close range effort from Ukuma Ta'ai.
Stretching the Lions defence with quick passes down the line, the Tongan international barged through two defenders to take due reward from a superb start.
Captain Bob Beswick doubled the lead four minutes later with a short range snipe as Newcastle continued to play with patience, before neat interplay between Sam Halsall and Jack Johnson laid the platform for a third try with just a quarter of an hour gone.
Hauled down 20 meters out, the play was switched right and with space to play with, Jake Shorrocks placed a beautifully weighted kick through that Matty Wright latched on to, with a successful conversion making it 18-0.
With control established Thunder weren't letting up and with aggressive kick chases being deployed to keep the pressure on the hosts, a repeat set was forced which laid the platform for try number four.
Attacking at pace, Connor Bailey broke the line to bring up 24-0 before Calum Turner finished off a superb break from Alex Clegg to seemingly put the game to bed.
Swinton however refused to lie down and three quick-fire tries in the closing 10 minutes of the half allowed them to take a big bite out of Newcastle's lead.
Looking to arrest the swing in momentum Thunder again came out of the blocks determined and after forcing three repeat sets onto the hosts, made the last of those tell as the ball was worked out to Wright, who cut back inside to stride through for his second try of the day.
Swinton though crossed for another pair of tries to get within striking distance with a quarter of the game still to go and worse for Thunder, Josh Woods was lost to a failed head injury assessment.
With a thrilling finish set to come, a medical medical emergency in the stands forced a 20 minute break in the game as assistance was provided, with both teams removed from the field of play.
Upon the resumption, there was still a quarter to go with thunder shorn of both half-backs, but a composed approach in defence and a focus on completing their attack sets deep into Swinton's half allowed them to take an important win.
Thunder now face Oldham RLFC at Kingston Park Stadium on June 20, kick off 3pm
Newcastle Thunder
Calum Turner, Jack Johnson, Matty Wright, Sam Halsall, Alex Clegg, Jake Shorrocks, Josh Woods, Ted Chapelhow, Bob Beswick, Nathan Wilde, Ukuma Ta'ai, Connor Bailey, Liam McAvoy, Jay Chapelhow, Mitch Clark, Owen Harrison, Evan Simons
Tries: Ta'ai (8), Beswick (12), Wright (15, 45) Bailey (24), Turner (27)
Goals: Woods 5/6, Wright 1/1
Swinton Lions
Ben Heyes, Luis Roberts, Rhodri Lloyd, Mitch Cox, Mike Butt, Martyn Ridyard, Jack Hansen, Will Hope, Luke Waterworth, Sam Brooks, Deane Meadows, Nick Gregson, Billy Brickhill, Paddy Jones, Louis Brogan, Dominic Horn, Paul Nash
Tries: Hope (32, 56) Cox (35), Gregson (38) Hansen (50),
Goals: Ridyard 5/5