20 Jan 2023
Thunder confirm squad for Doncaster friendly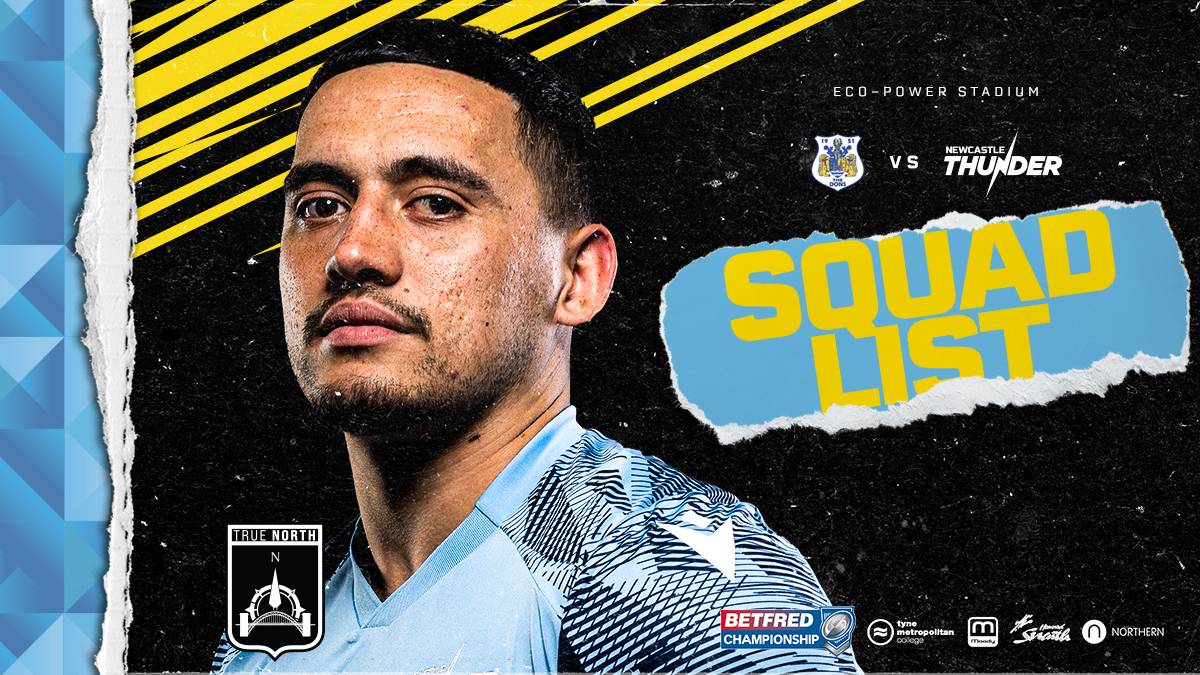 Newcastle Thunder head coach Chris Thorman has today named his 21-man squad to travel to the Eco-Power Stadium on Sunday, January 22.
Kicking-off at 3pm, the fixture is Thunder's second pre-season friendly after losing out to Keighley Cougars last week at Kingston Park.
Looking to make amends and build on the lessons learnt last time out, Chris Thorman has selected a smaller squad to make the trip to Doncaster, which sees the return of power-house prop Mitch Clark to the fold.
This is one of five changes to the squad with Max Flanagan and trialists Joseph Hall, James McGurk and Nathan Rushworth all not making the trip.
Tickets for the pre-season friendly at Doncaster RLFC are available to purchase in advance at Thunder's club shop or online, saving you on match-day pricing.
Click HERE to buy your tickets.
Please note that tickets are only available for collection and there will be no digital tickets provided.
NEWCASTLE THUNDER SQUAD
(Player // Player sponsor)
JAKE ANDERSON // Sponsored by: Jan & Jim Neighbour
CONNOR BAILEY // Sponsored by: Stakeford Tyre Services
JAY CHAPELHOW // Sponsored by: GMR Construction
TED CHAPELHOW // Sponsored by: GMR Construction
ALEX CLEGG // Sponsored by: Heist ltd
MITCH CLARK // Sponsored by: Ludwell Electrical
RHYS CLARKE // Sponsored by: The Inn Collection Group
NATHAN CLEMMITT // Sponsored by: The Inn Collection Group
CURTIS DAVIES // Sponsored by: The Inn Collection Group
ALEX DONAGHY // Sponsored by: The Inn Collection Group
ALEX FOSTER // Sponsored by: Castle Cleaning
BRAD GALLAGHER // Sponsored by: Ludwell Electrical
JACK JOHNSON // Sponsored by: Tony Carter Transport Ltd
EVAN LAWTHER // Sponsored by: The Mosley Family
CONNOR MOORE // Sponsored by: Derwent View Group
JACK POTTER // AVAILABLE TO SPONSOR
ROBERT TULIATU // AVAILABLE TO SPONSOR
MARUS WALKER // Sponsored by: BTS Boiler Technical
MAC WALSH // AVAILABLE TO SPONSOR
NIKAU WILLIAMS // Sponsored by: MMG Sports
ALEX YOUNG // Sponsored by: Autofix Washington Ltd
Not available for selection: Gideon Boafo, Jake Lightowler, Daniel Okoro