5 Aug 2022
THUNDER NAME 21-MAN SQUAD FOR BRONCOS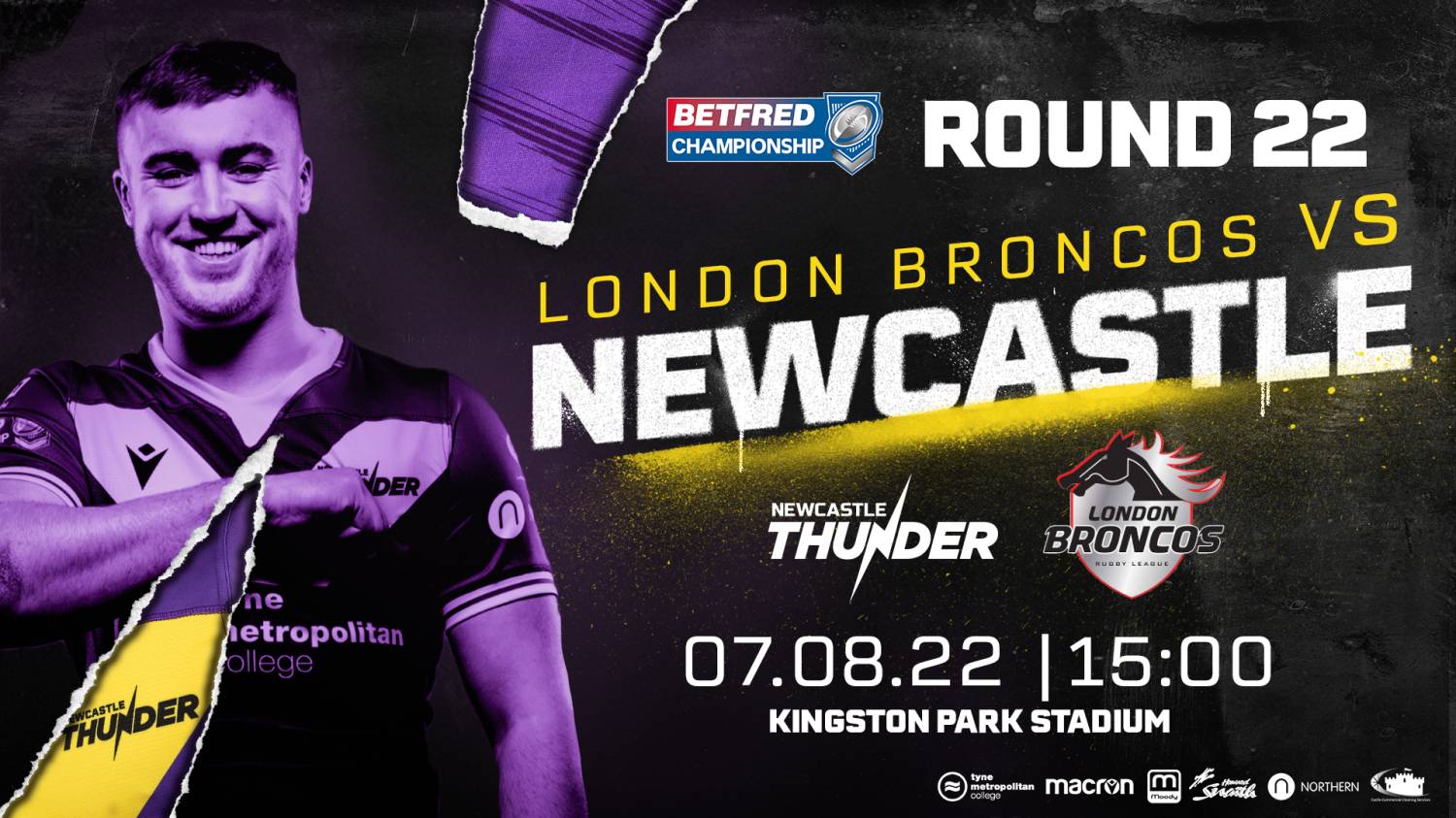 Five changes as Newcastle manage injuries and suspensions ahead of the Betfred Championship visit of London
Newcastle Thunder show four changes in their 21-man squad ahead of the Betfred Championship clash with London Broncos on Sunday afternoon.
Dual reg back Umyla Hanley, new signing Thomas Lacans, Josh McDermott and Josh Woods are the players brought in as a mix of injuries and suspensions make themselves felt.
Jack Johnson, Jake Shorrocks and Tom Forber miss out through injury, with Johnson ruled out for the season, Forber nursing a hyper-extension of his elbow and Shorrocks a broken rib.
Isaac Nokes meanwhile is absent as he serves the one-match suspension he was handed following the dangerous contact in the 24-all draw with Dewsbury the last time Thunder played at home.
Both sides come into Sunday's games looking to get back to winning ways after losses at last week's Summer Bash at Headingley, with the Broncos well beaten by Sheffield Eagles and Thunder narrowly losing out to York City Knights.
It was a much-improved performance for Thunder against the play-off chasing Knights, with the result in the balance up until the closing stages.
Unbeaten at home since the end of June by virtue of big wins over Workington and Bradford accompanying the battling draw with the Rams, a win on Sunday would allow Thunder to maintain their chase of a top half finish and close the gap to seventh placed Widnes Vikings.
Tickets for Sunday's match are on sale now with advanced prices of £15 for adults, £10 for concessions, £8 for 16-24-year-olds and £3 for Under 16s in place until Noon on Sunday.
In a change to the majority of the 2022 season, supporters attending on Sunday will be housed in the East Stand, with entry via the Tap & Tackle main doors.
Match tickets can be booked by clicking here, calling 0191 214 5588 (opt 1) or by visiting the Kingston Park Stadium box office.
Newcastle Thunder squad.
v London Broncos – Sunday 7th August 2022 – KO 3pm
FROM
1 Craig Mullen, 5 Gideon Boafo, 7 Josh Woods, 8 Nathan Wilde, 9 Josh Eaves, 10 Mitch Clark, 12 Brad Day, 14 Connor Bailey, 15 Ted Chapelhow, 16 Jay Chapelhow, 17 Ukuma Ta'ai, 18 Dan Coates, 20 Brad Gallagher, 21 Lewis Peachey, 22 Alex Donaghy, 24 Jake Anderson, 27 Josh McDermott. 31 Umyla Hanley, 36 Ellis Robson, 39 Ollie Roberts, Thomas Lacans