23 Nov 2021
NEWCASTLE THUNDER WHEELCHAIR RUGBY SESSION CONTINUE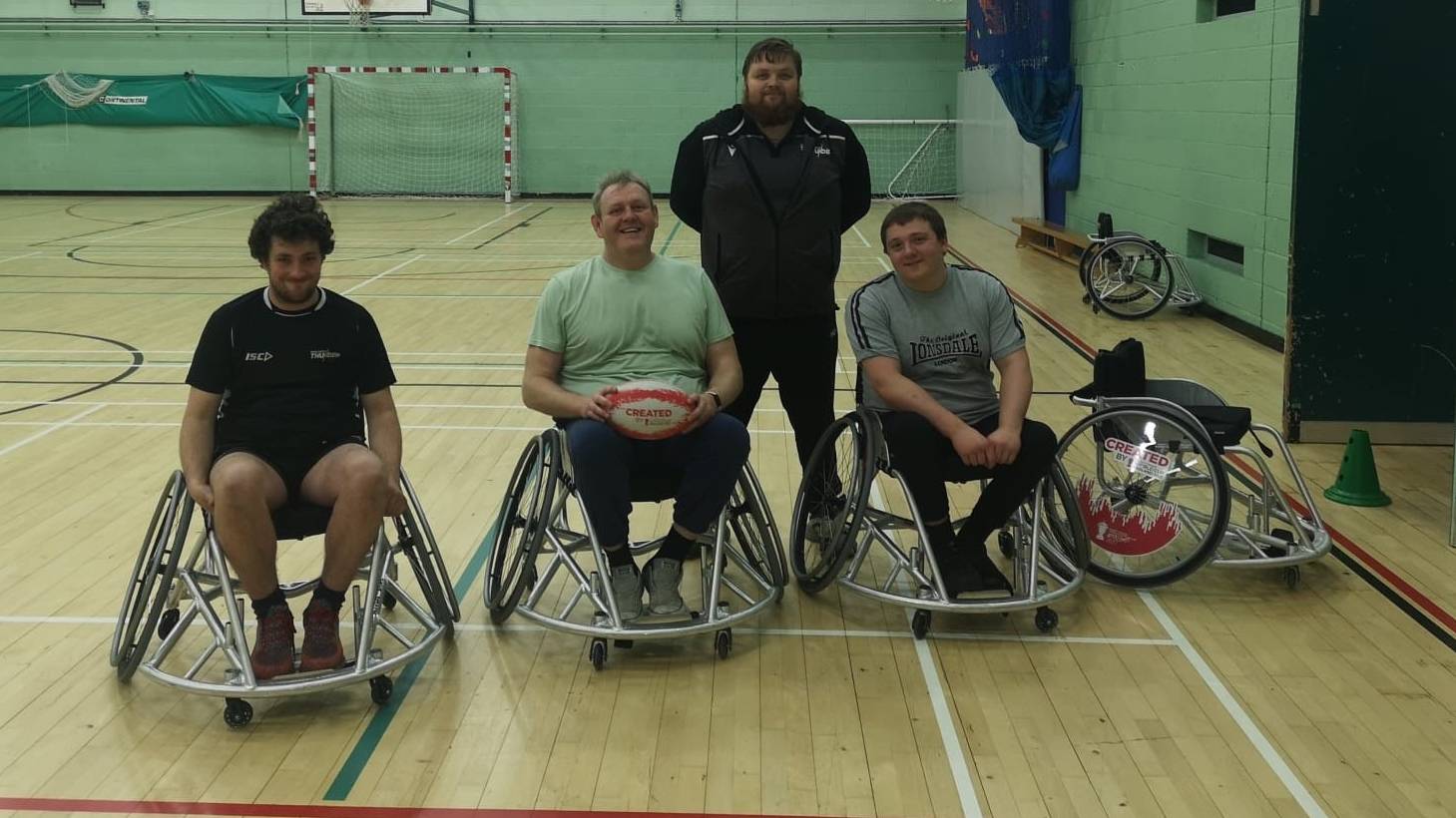 Wednesday evening sessions for the club's new Wheelchair Rugby League team are continuing at Newcastle College Sports Hall
Newcastle Thunder are embarking on NewEra's across the club this autumn, with the club's Community Foundation launching a brand-new Wheelchair Rugby squad in the city centre.
Starting at the beginning of November, coaches from the Foundation have been delivering sessions at the Newcastle College Sports Hall on Scotswood Road.
Welcoming players of all abilities, the sessions take place between 6pm and 8pm on Wednesday evenings and are the first step to establishing a full Newcastle Thunder wheelchair rugby league team for the 2022 season.
Interest in Wheelchair RL is growing significantly in the UK with a growing number of teams and in recent years the televising of games from the Challenge Cup and the recent England tests with world champions France by the BBC.
Invented in 2006, the sport is played by teams of five who each have two able-bodied players to make the sport all-inclusive.
The game is played over 80 minutes and is designed to replicate the running game of Rugby League, with various law modifications to suit playing in a wheelchair, with tackles effected by removing a Velcro tag from the opposition player's shoulder and kicks being made with a clenched fist.
With a sport that welcomes able bodied and disabled participants to play side by side, it is a sport with a transformative power, something that Leeds Rhinos and England player James Simpson attests to.
Discovering the sport after sustaining injuries whilst serving with 1st Battalion Yorkshire Regiment in Afghanistan, Simpson is a passionate cheerleader for the game.
"Finding wheelchair rugby league has given my life such a new direction, a new aim, new goals and new targets.
"I started playing in 2013 and we had six teams across the north of the country. Now have 20 plus teams spread across three different leagues. We have teams in Glasgow, up in Edinburgh, we've got teams in Wales and also down in the south of England in Kent.
"The game in England and the UK has grown massively over the past few years and the World Cup gives us a chance to really go global with this."
Training sessions for the Newcastle Thunder Wheelchair Rugby League side will continue until December 15 before resuming in the new year from January 12.
For more information about the Newcastle Thunder Wheelchair Rugby League session, please contact Steve Beaty by emailing steve.beaty@newcastle-thunder.co.uk