19 Nov 2021
QUIZ NIGHT CONFIRMED FOR DECEMBER 2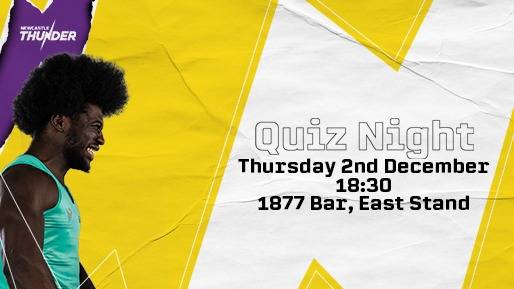 Meet the 2022 Thunder vintage at our latest fan event at Kingston Park Stadium
December 2 is a date for the diaries as Newcastle Thunder fans get their first opportunity to meet the 2022 squad en masse.
Following on from a successful season launch night in October that brought fans together for the reveal of four new signings, December's event takes the shape of a quiz night with the new look squad present and taking part.
Hosted in the Tap & Tackle at Kingston Park Stadium, the night will get underway at 18:30 and will once again be free to attend.
With an early evening time slot, refreshments will be able to be purchased on the evening while the club ticket office and shop will be open until 8pm to allow fans to cast their eye over 2022's new merchandise and book season ticket memberships.
Having announced 12 new signings and four academy graduations as part of the 24-man squad for the new Betfred Championship season, there are plenty of new faces for supporters to get to know.
They will join returning fan favourites for a pre-Christmas get together that is the next in a planned, yearlong calendar of events that aim to maintain the strong bonds between the club and its fans.
General manager Jordan Robinson said: "After more than 100 people came down to the season launch in October, we have been planning our next get together and hope to see as many people as possible come along.
"Everyone loves a pub quiz so it seemed like a perfect format for the first event where we can have the new look squad meet our fans.
"The questions are currently being set and with some excellent prizes being garnered for the winners, we're looking forward to some health competition between everyone there."
To book your place for the quiz night, click here.