12 Jul 2021
NEWCASTLE THUNDER 24 - 12 DEWSBURY RAMS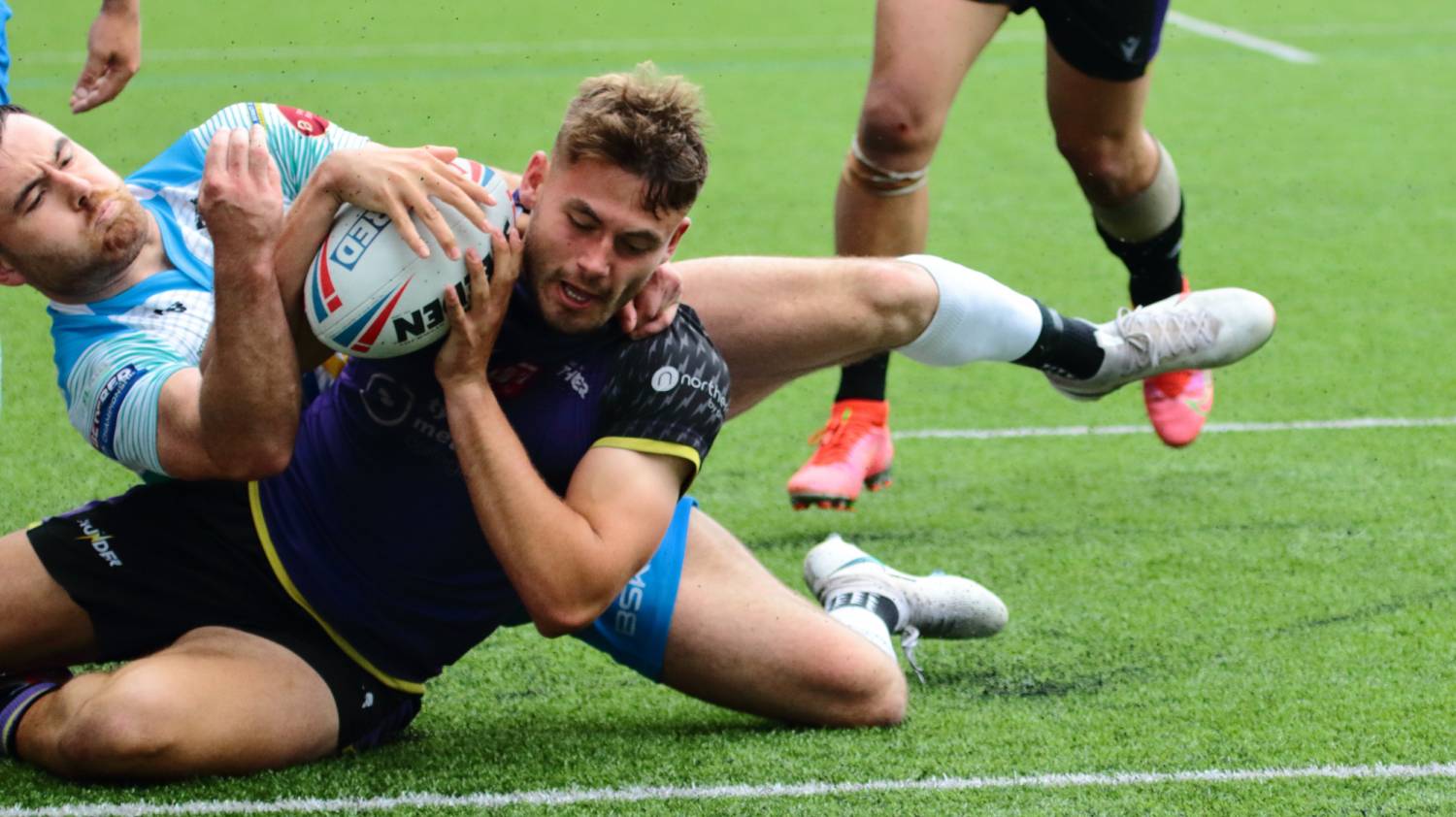 Newcastle Thunder made the most of their chances to take a fourth Betfred Championship win in five matches on Sunday afternoon, as they secured a solid 24-12 win over Dewsbury Rams at Kingston Park Stadium.
Thunder scored five tries to the visitors two on an afternoon where handling conditions were difficult following a pre-match downpour, leading to a scrappy game that only flowed in parts.
That will be of little concern to Newcastle however as they continue to ascend the table and look good value for their recent run of form.
Newcastle were the first to strike with just three minutes gone as half-back Josh Woods played Jack Johnson in for an easy try, with a pin-point pass that opened up a huge gap for the winger to stroll through.
The Rams were level off their next set though, with a horrible bounce off a lofted ball outfoxing Thunder's Alex Donaghy and bouncing sympathetically towards the on-rushing Rams line.
Lewis Carr was the man to gather and who shrugged off the last-ditch tackle of the home fullback to go in from 30m out.
With both kickers missing the chance to convert, it was the Rams who ended up building pressure as the hosts came undone while looking to play their way up-field.
It was a measure of how things had played out that the Rams opted to kick a goal following a high tackle on 25 mins to take the lead, with a host of promising attacking positions having come to nought for the visitors thanks to determined Newcastle defence.
With a reset of field position with the restart, Thunder hit back almost instantly through Connor Bailey.
The on-loan Wakefield back row latched on to a soft pass from Ukuma Ta'ai to crash over for his third of the season, after the Tongan international drew the defence in with a meandering run where no-one wanted to commit to a tackle.
As at York a week prior, a quick-fire start to the second half laid the foundations for the hosts' win, as Ta'ai came up with his customary crash-ball, close-range score on 42 minutes, before Alex Clegg rounded off a flowing try that started on Thunder's own goal line.
It was Ta'ai who sparked the move as he spotted Johnson out wide and in space and provided a clean pass that allowed the winger to embark on a surging run down the wing that took Thunder deep into the Rams half.
The supporting Woods was on hand to ensure the next play came quickly and prevented the Rams defence from scrambling back and when the ball was switched right, Reece Dean was able to find Clegg who powered his way over.
Having been unable to make much impression with the boot Woods opted for two as the hour approached, when a penalty was awarded directly in front of the posts to take Thunder's lead to 14 points.
He was on hand again shortly after to create Thunder's game sealing try as his precise passing was again employed to incisive effect.
With the Rams conceding another penalty close to their line, the fresh set was taken with Woods fixing his man before finding the scoring pass, with Kieran Gill crossing for his tenth try of the season through the created gap.
With 18 minutes to play there was still plenty of time for Dewsbury to stage a fightback, but more determined defence from the hosts either snuffed out the threat, or forced an error that gave them back possession.
A second try did come for the visitors through Davey Dixon with 12 minutes to go, as the centre danced his way around the attentions of the Thunder defence.
It proved to be however no more than a consolation as Newcastle held their composure to see out the remainder of the half firmly in control and take their fifth win of the season.
Newcastle Thunder
27 Alex Donaghy, 2 Jack Johnson, 3 Matty Wright, 4 Kieran Gill, 18 Alex Clegg, 21 Reece Dean, 7 Josh Woods, 15 Ted Chapelhow, 14 Evan Simons, 8 Nathan Wilde, 17 Connor Bailey, 11 Ukuma Ta'ai, 10 Kyle Trout,
Interchanges
16 Jay Chapelhow, 36 Owen Harrison, 34 Jake Anderson, 29 Isaac Nokes
Tries: Johnson (3), Bailey (27), Ta'ai (42), Clegg (47), Gill (62)
Goals: Woods 2/6
Dewsbury Rams
4 Matthew Fleming, 2 Andy Gabriel, 18 David Dixon, 5 Will Oakes, 27 Lewis Carr, 30 Alex Smith, 1 Joe Martin, 39 Dan Hawksworth, 33 Dom Speakman, 20 Aaron Hall, 34 Robbie Storey, 12 Michael Knowles, 25 James Thornton
Interchanges
7 Liam Finn, 13 Chris Annakin, 23 Jonathan Magrin, 10 Tom Garratt
Tries: Carr (7) Dixon (67)
Goals: Knowles 2/2