10 Nov 2022
Newcastle Rugby Foundation successfully launches RUGBY+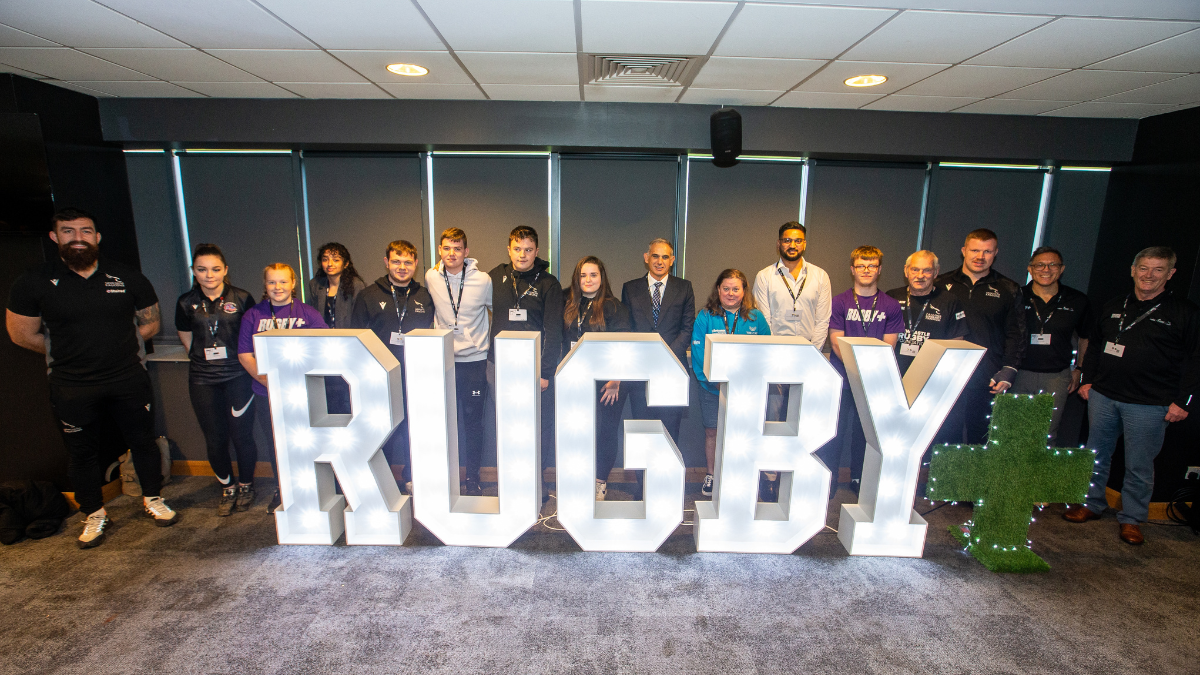 Newcastle Rugby Foundation hosted a fantastic breakfast event for the launch of its new purpose and strategy, RUGBY+.
The Newcastle Rugby Foundation (registered charity. No 1107861) proudly launched their new purpose and strategy which is making rugby the positive difference that changes lives for good.
A fantastic breakfast event was hosted by Jill Douglas alongside Newcastle Rugby Foundation ambassador and former England rugby union great, Tony Underwood.
They were joined by a Falcons great Rob Vickers, Newcastle Rugby chairman Semore Kurdi, ex-Scotland international Nathan Hines, Newcastle Thunder head coach Chris Thorman and Newcastle Falcons stars Gary Graham and Trevor Davison.
The event was a brilliant opportunity for the foundation to share their vision for the charity's future - boosting wellbeing, growing skills, raising involvement, and building a sense of belonging.
The event saw special guest participants and foundation champions, John Mew, Ali Riswan, Gill Harrowell, Amelia Hawkins, Josh Priest, Katie Coburn, Helin Gharib, Millie Robson, James Britton and Josh Evans take to the stage to share how they have benefited from the foundation and their programmes.
Hearing these inspiring stories was a real highlight of the morning.
Ali Riswan is a young refugee whose family had to leave their home on the Pakistan-Kashmir border. Ali engaged with the foundation via Falcons Community's partnership with Pheonix Detached Youth Project.
He had never played the game before taking part in Project Rugby, supported by Premiership Rugby.
The aim of the project is to engage and increase participation in rugby by people from traditionally under-represented groups. Following this taster session Ali wanted to learn more, and Falcons Community introduced him to North Shields Rugby Club, where he has developed a great interest and plays for the club's 2nd team.
James Britton suffers from a stammer which held him back with some of his coaching and affected his confidence. He felt that at school he wasn't trusted and always felt rushed, which impacted his ability to do work and also his confidence levels.
James has thrown himself into the HITZ programme, joining various clubs including the futsal team at Newcastle College, and now regularly attends fitness sessions in the college gym. James' physical health has massively improved since joining HITZ, and this has seen him improve his confidence and mental health as well.
Newcastle Rugby Foundation would like to thank everyone who attended and showed their support for the launch of RUGBY+, with an amazing 140 guests helping play an instrumental part of making the morning so special.
Melanie Magee, head of Newcastle Rugby Foundation, said: "I felt privileged to be in the room with such amazing people today.
"Our dedicated Newcastle Rugby Foundation staff work tirelessly to ensure we help those at most need in our communities, and it was inspiring to see some many people tell their own unique stories of how rugby has helped them in so many different ways to achieve their goals overcoming some of the most difficult of challenges.
"Our new strategy 'Rugby+' sees us focus on these positive impacts - boost wellbeing, raise involvement, build belonging and grow skills. I'm excited to drive this with the help of our trustees, partners and supporters for the benefit of as many people as possible in the north east community.
"It's a real team effort here and so there are too many people to thank, but in particular special mention must go to our outstanding host Jill Douglas, event partners Gallagher, Newcastle Rugby Foundation ambassador Tony Underwood, Semore Kurdi, Chris Thorman, Gary Graham, Trevor Davison, Rob Vickers, Nathan Hines, trustees, dedicated staff and volunteers, but mainly our inspirational participants.
"It goes without saying we would love to hear from anyone interested in the work we do, so please get in touch!"