21 Jun 2022
BUSINESS BOLTS SUPPORTS GREGGS FOUNDATION PICNIC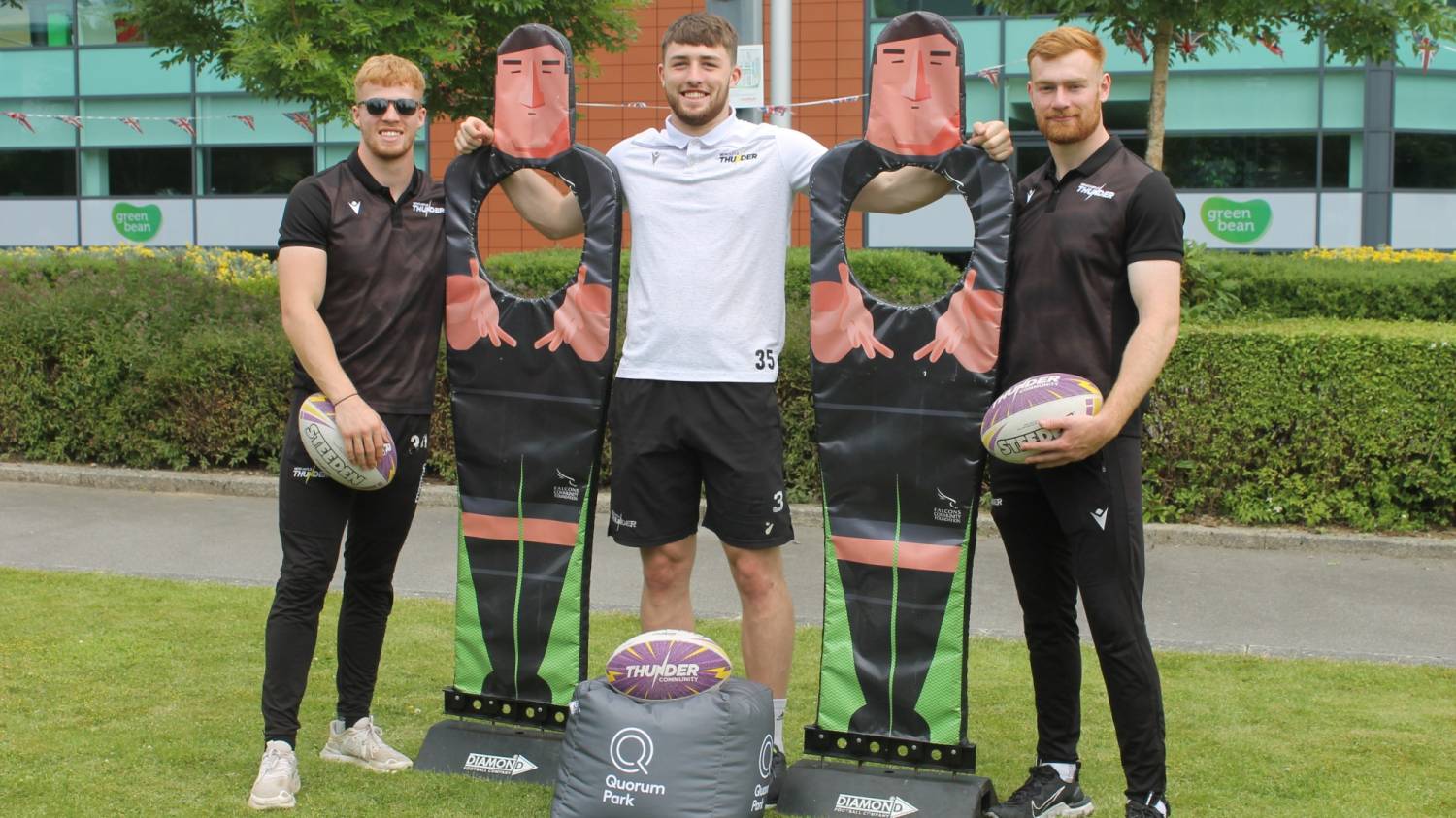 Thunder players join lunchtime fun on Magic Friday promo duties
Newcastle Thunder players Nathan Clemmitt, Alex Donaghy and Isaac Nokes were on the promotional trail last week as the club's Business Bolts programme took them to Quorum Park and the Greggs Foundation Community Picnic.
On a sunny Thursday lunchtime and armed with a pair of passing targets, the three local lads headed to the business park's sports courts and courtyard to challenge picnic attendees to test their skills.
With a pair of tickets to Magic Friday up for grabs alongside free Greggs goodies, Pimms and Mocktails, business was brisk as people attempted to win their place at the July 8 Bradford Bulls clash by passing a full-size rugby league ball through the target in three attempts or less.
Not everyone was successful in their quest, but the lads ensured that employees from some of the UK's biggest companies are aware of the massive game coming up at Kingston Park in just under three weeks.
Business Bolts is a free-to-join initiative that offers companies access to tickets for Thunder home matches at exclusive prices, with the organisations earning rewards once ticket sales through their staff reach certain milestones.
From programme and big screen advertising at Newcastle Thunder match days, through to team building sessions and mentor workshops with players and coaches, including for Great Britain international Denis Betts.
The Greggs Foundation, Sunderland Council and Nexus are among the organisations currently promoting home games to staff directly as part of the programme, while the likes of Gentoo, Hays Travel and Tesco Bank are being reached by an extension of this work.
Business Bolts can see promoting partners involved with as much or as little commitment as they wish to employ, with the club eager to hear from any companies who would like to get involved.
For more information on Newcastle Thunder Business Bolts and how to get professional rugby league to engage your staff email a.robson@newcastle-thunder.co.uk